Features
Patient management for the 21st century.
---
OLIS and DHDR
MendMD is the first non-EMR/EHR application to be approved by Ontario Health to use the provincial Ontario Lab Information System (OLIS) and Digital Drug Health Repository (DHDR) services. We've gone to great lengths to make accessing your patient lab and medication data as fast, simple and secure as possible so you can access this information from anywhere. Gone are the days when you need to walk to the nurses station 30-40 times a day to login to Connecting Ontario. It's time for point-of-care access and MendMD is ready for you.
---
Integration with CabMD®
MendMD is integrated with CabMD®, Ontario's premium OHIP-billing platform. For users of CabMD® you can easily access your patients. MendMD can be used without CabMD®, if you prefer but why not take the opportunity to simplify your OHIP billing as well?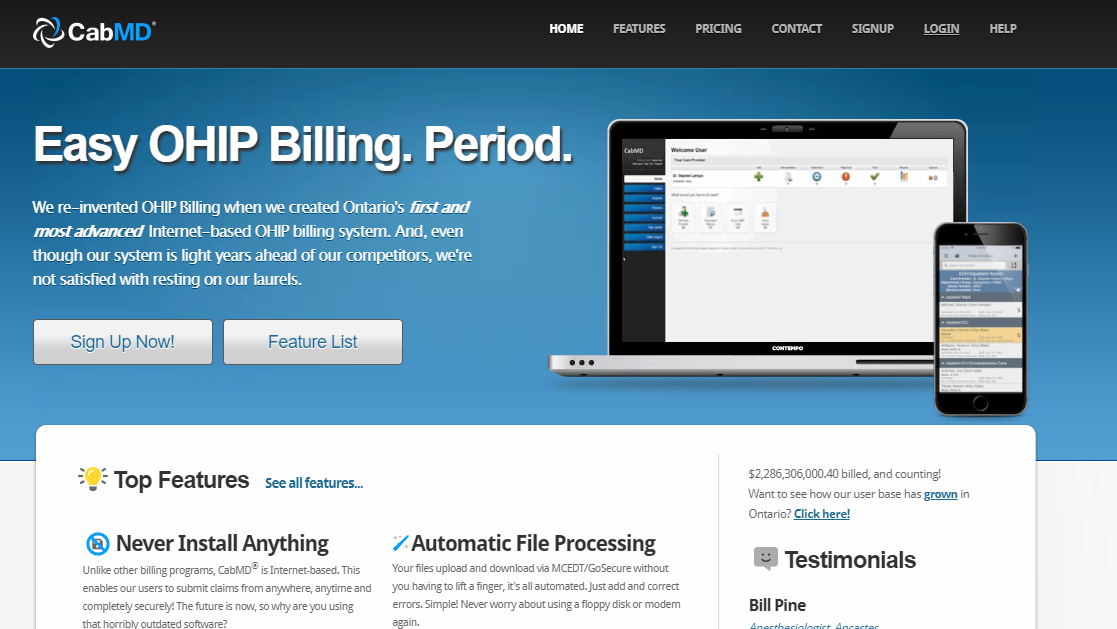 ---
Evidence Based SNOMED CT Integration
We've based our entire system from the international SNOMED CT classification system and through innovative means we're turning managing patients into standards-based knowledge management.
FAQ
Frequently Asked Questions
---
Got a question? We've got answers. If you have some other questions, contact us using email.
Is this a secure site for purchases?
Absolutely! We work with top payment companies which guarantees your safety and security. All billing information is stored on our payment processing partner which has the most stringent level of certification available in the payments industry.
Can I cancel my subscription?
You can cancel your subscription anytime in your account. Once the subscription is cancelled, you will not be charged next month. You will continue to have access to your account until your current subscription expires.
How long are your contracts?
Currently, we only offer monthly subscription. You can upgrade or cancel your monthly account at any time with no further obligation.
Can I update my card details?
Yes. Go to the billing section of your dashboard and update your payment information.
Can I request refund?
Unfortunately, not. We do not issue full or partial refunds for any reason.
Can I try your service for free?
Of course! We're happy to offer a free plan to anyone who wants to try our service.